Students, tell us what you think for a chance to win a £20 voucher! We've emailed you with a quick survey. If you haven't received it let us know.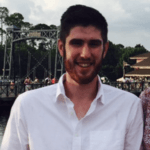 To everyone who took part in I'm a Medic this November – students, professionals and mods!
Thank you so much for the opportunity to get to chat to so many engaging and interesting young people. Your fantastic questions have been great to answer over the last 2 weeks and many of them have made me stop and think about my own job and career again.
Thank you also for voting me your winner! I in no way expected to win, and I had almost forgotten there was a prize. I hope that I will be able to use the money to help even more young people from Lincolnshire interested in becoming doctors attend our local interview preparation scheme by offering them a bursary.
I'm sure that I speak on behalf of everyone involved when I say that I hope you all got a lot out of the opportunity and it has made you at least consider a career in healthcare – whether it be on the frontline or in one of the admin teams who helps us do our jobs. As lots of you found out, we all think working for the NHS is a massive privilege and one that we all love, in spite of its challenges which are perhaps now greater than ever.
No matter what you choose to do with your futures, my final advice to you all is to grab the opportunities presented to you now with both hands, just like you have this month. Life chucks all sorts of things at you, good and bad, but as you all approach important crossroads in the coming months and years where you make decisions which will shape the rest of your lives, think about how you can use these opportunities to get to where you really want to be.
Good luck with whatever you choose to do, and have a lovely Christmas!
Rob
Healthcare professionals! If you'd like the chance to win funding for your own outreach, apply for the next I'm a Medic, Get me out of here: imamedic.uk/candidate-application