Profile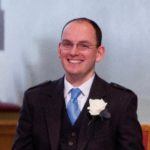 Philip Williams
Curriculum Vitae
Education:

George Heriot's School, Edinburgh (until 2001). University of Nottingham (until 2006).

Qualifications:

BMedSci(Hons), BMBS, MRCGP

Work History:

F1 at QMC, Nottingham. F2 at Lincoln County Hospital, GP Trainee on the Lincoln Training Scheme

Current Job:

Partner, Nettleham Medical Practice

Workplace:

Nettleham Medical Practice
About Me:

I'm a GP in Lincolnshire! 😀

Read more

I grew up in Edinburgh, then went to the University of Nottingham (class of 2006!). I had my F1 year in QMC, Nottingham then F2 in Lincoln. I loved Lincoln so much that I decided to stay, and did my GP specialty training on the Lincoln scheme. I was then lucky enough to get a partnership in my training practice.

I'm now married to my beautiful wife Rose and we've got a 10 month old daughter called Beatrice who continually cracks us up (unless it's 4am!). I used to enjoy the gym and medico-politics, but for the last 10 months it's been all hands on deck when I'm not at work!

Here's a pic of my daughter helping me answer your questions!

My Work:

GP Partner, Lincolnshire

Read more

I'm a partner in a large training practice in Lincolnshire. We're a suburban dispensing practice with 11,500 patients. I'm the research lead for the practice and at any one time we may be involved with a dozen studies, many of which are international. I am also the GP tutor for medical students. We regularly take medical students from the University of Nottingham but have also taken medical students from Oxford & KCL. We also host a lot of other students including nursing and pharmacy.

I'm one of the two IT geeks in the practice, and spend way too much time inventing IT add-ons to help us do things better and more safely.

We're currently rated "outstanding" by the Care Quality Commission, and I've been awarded an honorary lectureship by the University of Lincoln. We've been shortlisted in the "Best GP Practice" and "Research, Innovation & Teaching" categories in the first Lincolnshire Health awards, so we'll see if we've won in the next few weeks!

I set up a group for newly qualified GPs in Lincoln, before becoming the Royal College of GP's national lead for "First5" (check their website for more details about this: http://www.rcgp.org.uk/first5) – they waited til after I was appointed before explaining to me that meant I was looking after 11,000 newly qualified GPs across the four nations! I loved that role and it gave me a better understanding of how health policy works, and how politicians work!

Oh. And I have the unenviable task of leading the team that organises the Christmas do! It's a varied job!

My Typical Day:

Nonstop and varied!

Read more

I get into work at 7.45. Switch on my computer then make a cup of tea.

I file the blood test results and other lab results that tend to come in overnight (usually between 20-60 results per day).

I see my morning clinic between 8.30am and 10.30am and then have a quick cup of tea and chat with everyone in the staff room. We have over 40 staff, so it's good to catch up with everyone.

From 11am we see emergencies for that day (in other words, patients who say they can't wait until another day). That varies from none to 30-40! (we don't like the 40 days much….!)

I may then debrief any trainees who are around, before heading out on home visits. We typically have one or two per day.

Quick lunch then admin time where I file letters from consultants, write referrals, sort through messages about patients, write reports for lawyers, insurance companies etc.

At 3pm the doctors and nurse practitioner tend to meet for another quick coffee before seeing patients from 3.20pm to 6pm. More admin then usually home about 6.30pm or 7pm.
Quick Fire Questions

How would you describe yourself in 3 words?

committed, caring & gobby!

Who is your favourite singer or band?

What's your favourite food?

What did you want to be after you left school?

Were you ever in trouble at school?

Only in first year of primary school for throwing gravel at people in the playground!

What's the best thing you've done in your career?

Each time a patient says that I've saved their life.

What or who inspired you to do your job?

My mum pointed out that it was an obvious choice for me!

If you weren't in healthcare, what job would you do?

If you had 3 wishes for yourself what would they be? - be honest!

A happy & healthy family, mortgage paid off, a luxury holiday every year!
---
---
---